Scott Helmke - Chainmail Armor & Jewelry
I make chainmail!
This page is pretty stale - I think I last updated it in 2005. I'm still doing stuff, but not very fast. I'm working on hauberk number 5, pretty much a copy of the diamond-pattern one but made with aluminum rings to reduce the weight.
Weird story behind this hobby. A few years ago in my full-time software days I developed tendonitis in both wrists. Got physical therapy, invested some serious money in alternative keyboards, etc, which helped a lot and got me back to mostly normal. Somewhat more recently I noticed a couple different friends making chainmail and got inspired to try it myself. I was somewhat worried that it would cause me more wrist problems, but suprisingly it turned out to be a beneficial exercise for me! So I still end up doing a 2-5 hours a week of chainmail. The stuff just piles up; I've finished my fourth hauberk (armor shirt) and have a few pounds of jewelry and other things lying around.
Speaking of the fourth hauberk... it's done! This is the fanciest one I've done so far, although I've got some really interesting ideas for the next two shirts.
The affordable stuff is jewelry. I like to do fairly simple but high-quality bracelets and necklaces with stainless steel rings in 1/4" and 3/16" diameters. I'll also do a few other odd bits and pieces like coin purses (aka dice bags), watchbands, etc.

Chains and Coin Purse
Most jewely is done in plain stainless steel - polished up it looks great. I also do some pieces in colored (anodized) aluminum and in black stainless steel (The black piece below was done in black anodized aluminum).

Flat weaves (bracelets and chokers)
I was commisioned recently to make a chainmail purse. I ended up making it out of aluminum, 16 gauge wire with 1/4" rings. It's designed to carry an organizer, one of those small binders with a PDA inside.




Chainmail Purse
Of course there's always some sort of Renaissance-type festival to show off at - These are a couple shirts I made. The diamond-block shirt I'm wearing in the image has since been finished off with a collar.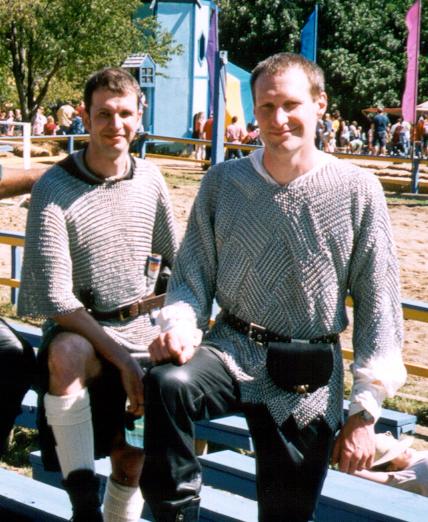 Chainmail shirts (I'm wearing the fancy one)
I finally made a leather vest to wear under the armor. Here's what happens after about 4 hours of wearing 35 pounds of chainmail over just a T-shirt:

Waffle skin! Looks worse than it felt. (photo: Matt Quirk)
Home
Questions? Email me